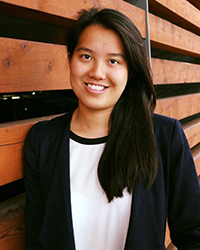 My Anh Victoria Thân
Université Laval
Canada
A founding member of Entrai-dons, a local and social currency initiative in Quebec City, Victoria Than was also, from 2016 to 2019, the chair of Enactus Laval University, a non-profit committed to entrepreneurial action that enhances society's economic, social and environmental health. Her experience in advising some forty students active in five social entrepreneurship projects and enterprises led her to disseminate the results nationwide and participate in numerous competitions, which contributed to promoting these same initiatives and furthering their influence. 
The first Quebecer to be named HSBC Woman Leader of Tomorrow, Victoria is renowned for her skills in project management, communications, social entrepreneurship and health care.
A recipient of the Lieutenant Governor's Youth Medal, her greatest sense of fulfillment comes from contributing to the strengthening of the community's economic and social fabric.