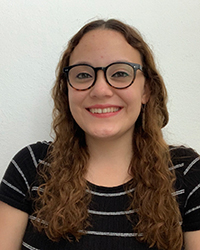 Noreimy R. Carrasquillo Pérez
Universidad del Sagrado Corazón, Puerto Rico
United States

As an undergraduate student in biology at Puerto Rico's Universidad del Sagrado Corazón, Noreimy R. Carrasquillo Pérez has been passionately interested in science to the point of developing a laboratory at home to supplement the research opportunities at university. Carrasquillo Pérez began sharing scientific microscopy findings on social media (IG: @norilabs) for others to see and hopefully become similarly interested in science. The most recent professional experience related to her field of study was a summer work-study opportunity assisting the microbiology laboratory technician. Other experiences in science include two microbiology research projects:
(1) "Study of the detection and characterization of bacteria with possible electrogenic activity in the soil of Puerto Rico," with mentor and microbiology professor, Mayra Rolón, and
(2) "Detection and Quantification of Coliforms: A Course with a Community Service Component," performed at Caño Martín Peña with Professor Rolón, to validate data on the Proyecto Enlace dredging project.