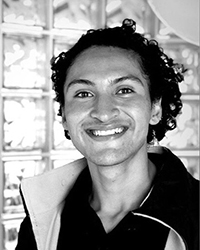 Luis Ramiro Valenzuela Ramírez
Universidad Autónoma de Querétaro
Mexico

In 2013, when Luis Valenzuela Ramírez was only 14 years old, he volunteered at Greenpeace, doing tasks to contribute to climate change awareness. Four years later, in high school, he and a team of classmates won second place in their 2017 Sustainability Fair: their project consisted of creating daily-use items made from recycled materials. Last November, Starbucks Coffee selected him as a Community Ambassador, doing environmental work such as planting trees and improving public spaces like parks and gardens. His social impact work has also involved being a volunteer at the Marist Support Centre for Migrants (in association with the United Nations Refugee Agency), helping migrant people with legal, medical, and integrative assistance. He studies at Querétaro's Autonomous University.