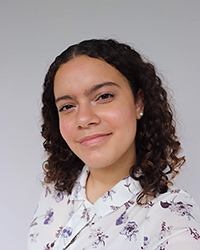 Coralys Cintron Cintron
Universidad del Sagrado Corazón, Puerto Rico
United States

Coralys Cintron Cintron's entrepreneurial experience began in 12th grade when she started a business called "Mineart" for a graphic design class final project in which she created and printed designs for shirts and hoodies. After the initial project, she received 58 additional orders and thus continued the project until November 2018. In her first year at Universidad del Sagrado Corazón, she began working at Neeuko, the Collaborative Innovation Center at the university, which helped her develop teamwork skills and gain knowledge about the design process according to the UN's Sustainable Development Goals. She was also elected vice-president of the Women in Science Student Association, where she works hard to highlight the presence of women in sciences. The association organizes non-profit activities, like Ronald McDonald's "feeding with love" program and hospital volunteers with children. She continues learning about business and innovation through books and courses to then apply it to her work in science.